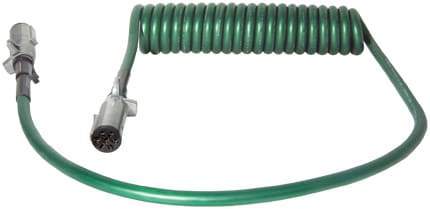 Tectran-7ATG622MW-Powercoil-ABS Duty (Green)
---
7ATG622MW - Powercoil-ABS Duty (Green)

Powercoils (ABS Duty - Green). SAE Plug (ATG) 4/12 - 2/10 - 1/8 gauge. Excellent coil memory prevents sagging.

This ultra heavy duty construction is approved for new ABS system power requirements on single or multiple trailer configurations.
Meets TMC RP 137 and 141.
Meets the stringent performance requirements of the new SAE J2222 Standard.
Flexible in temperatures to -85?F (-65?C)

Length = 20
Lead Lengths = 2 x 12"
---
Share this Product
---
More from this collection